Whether you're lucky enough to bring the whole family to Maui this year, or are simply looking for a family-friendly activity to add to your list of Valley Isle adventures, Maui Zipline Company offers a world class opportunity to appreciate Maui's beauty from the air while boosting your adrenaline.
Located conveniently at the lush, vast and oh-so-charming Maui Tropical Plantation in Waikapu, only a 10 to 15 minute drive from popular Maui locations like Kahului, Wailuku, Kihei and Ma'alaea, Maui Zipline Company offers one of central Maui's top experiences for kids, teens and adults.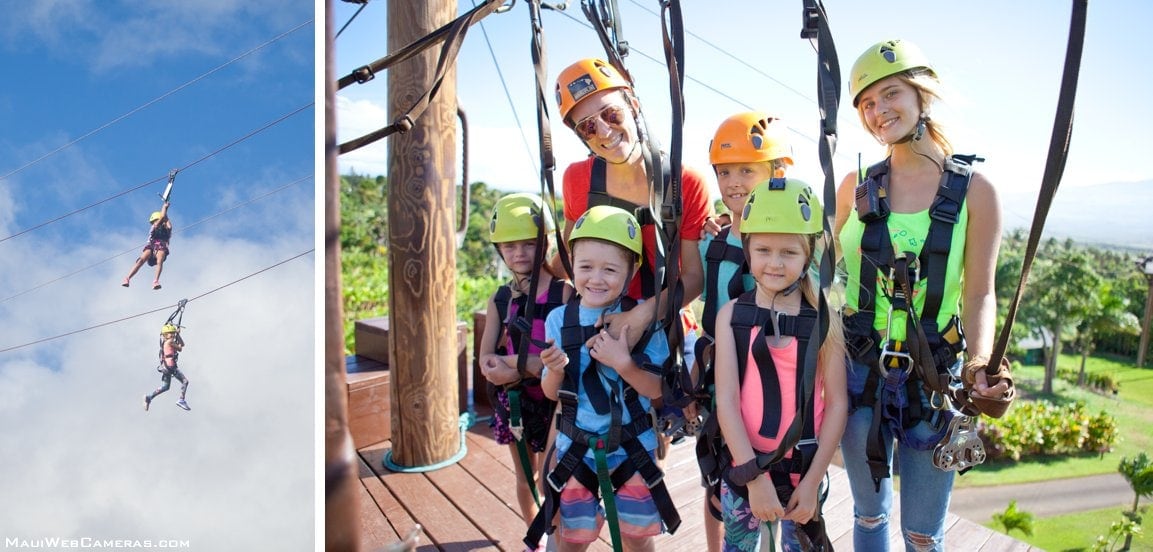 Maui Zipline Tour Details
Well known as Maui's newest and most family-friendly zipline tour, this once-in-a-lifetime adventure is open to guests as young as 5 years old who weigh at least 45 pounds. This introductory zipline experience is ideal for guests with or without prior experience, and includes 5 side-by-side ziplines which allow you to race your fellow travelers, whether it be a sibling, parent, friend, and even grandma or grandpa.
Soaring over the Tropical Plantation's landscaped gardens, sparkling tropical lagoon and swaying palm trees, participants will be treated to aerial views ranging from 300 to 900 feet, with an added bonus of Haleakala volcano, the West Maui Mountains and Maui's rugged shoreline dotting the various landscapes in the distance. All tours begin with a brief, scenic walk on a well-maintained trail before ascending to your first observation deck. After zipping from tower to tower around the Maui Tropical Plantation grounds, the tour concludes at a treehouse after an exciting final flight over the lagoon.
While the zipline tour itself lasts approximately 1 1/2 to 2 hours, guests should allow for a total time of 2 to 2 1/2 hours for ample check-in, safety orientation and training time. While reservations are not required before arrival on the Maui Tropical Plantation property, it's wise to pre-book for a specific time slot if your schedule is limited. Currently, guests may choose from 6 daily tour times, including 9am, 9:30am, 12pm, 12:30pm, 2:30pm and 3pm.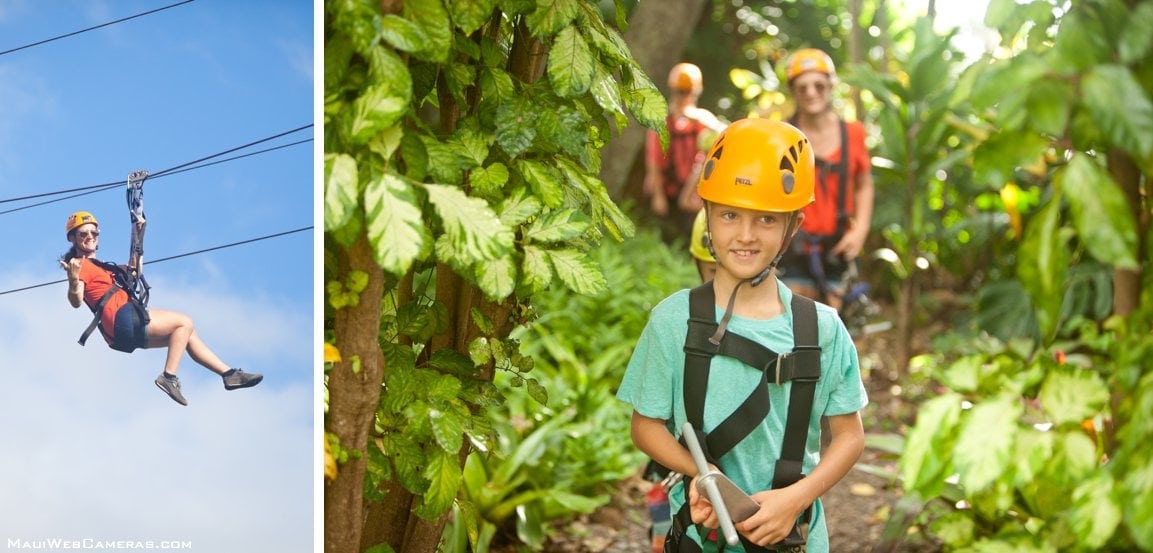 If you're traveling with those who would prefer to watch but not participate in the zipline tour themselves, no worries! Walk-along guests are invited to join for free, and may watch family and friends from the treehouse overlooking the Plantation's stunning tropical lagoon.
Rules & Requirements
For safety reasons, all guests must meet the proper weight requirements – between 45 and 250 pounds – upon check-in, and fill out the proper participant form and liability waiver. Guests under the age of 10 must have at least one adult to participate with them on the tour, while guests between the ages of 11 and 18 can zipline without an adult as long as one is located on the Plantation grounds. All guests under 18 must have a parent or guardian sign their participant form.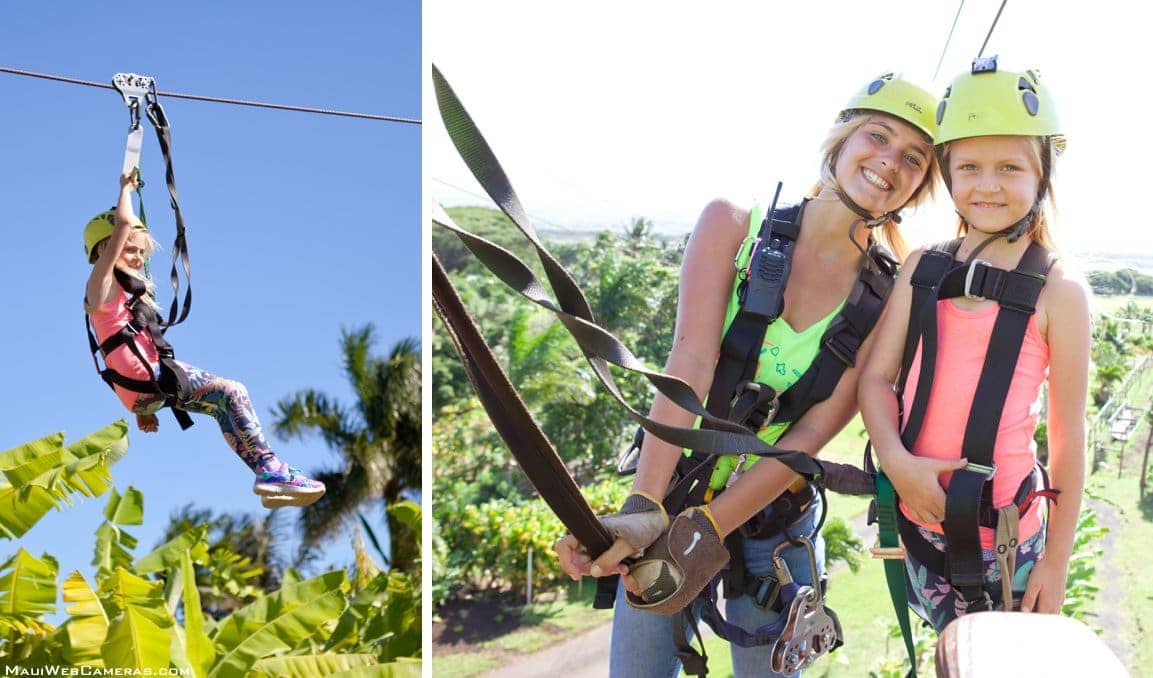 Additionally, all participants must meet the following requirements:
Be in moderately good health
Able to stand on your feet for up to 2 to 2 1/2 hours
Able to comfortable walk a few hundred yards over moderate terrain
Able to ascend and descend four flights of stairs
Must wear closed toe shoes
Per safety regulations, the following people are not allowed on any zipline tour:
Pregnant women
People with existing or recurring injuries
People under the influence of alcohol, drugs or any judgment-impairing substance
People with serious physical or mental disorders
People who suffer from medical conditions requiring immediate medical attention
To make the most of your tour experience, Maui Zipline Company recommends bringing the following items:
Comfortable attire – pay special attention to the weather conditions for the day of your tour!
Reef-safe sunscreen
Closed toe shoes
Sunglasses
Camera
Cash for tipping and any souvenirs or snacks you may want to purchase onsite
Though zipline tours run in rain or shine, rain gear will be provided to zipline guests on days when the weather is less than ideal. Lockers are also available for storing your personal belongings, free of charge.
Safety Regulations
With thousands of positive reviews from previous zipline tour participants, it's no wonder that Maui Zipline Company is one of the highest rated family activities on Maui. Due in large part to their team of friendly, knowledgeable, patient and safety-conscious tour guides, rest assured that the ziplines and equipment are inspected daily for continued safety standards. In fact, the zipline course was built not only to meet, but exceed, the Association of Challenge Course Technology (ACCT) professional building standards.
Tour guides are equipped with extensive safety training – as well as a minimum of ACCT accredited training hours – and are First Aid and CPR certified for extra peace of mind. As an added bonus, your highly trained guides will narrate your zipline adventure with fascinating facts about Maui's otherworldly flora, fauna and local Hawaiian culture.
To make it even safer, simpler and all-around easier, zipline participants are not required to use any kind of 'hand brake' system, and you are never responsible for slowing yourself down by putting your hands on the cables. Easy grip handlebars are used to increase control while you're zipping, so you can easily glide without worry or fear.
Full body harnesses, including those meant for children, are used for extra security at all times.
Reserve Your Spot
Ready to reserve your tour, or have additional questions about zipline with Maui Zipline Company? Call 808.633.2464 or visit their online booking system to claim your spot. Tours are currently priced at $110 per person, and 24 hours notice is required for cancellation.
Additional Activities
After your zipline tour concludes, we highly recommend visiting The Mill House Restaurant to sample farm-to-table pupus and a well deserved lunchtime craft cocktail with a view! You may also do some souvenir shopping at the Plantation Store, Soley Aloha Boutique or stop into the Mill House Roasting Co. to sample some freshly roasted Maui coffee varieties. Delish!
Mahalo for reading, and we hope you enjoy your upcoming zipline tour with Maui Zipline Company!