From the kiawe fields in Makena to the rainforest jungles of Hana, herds of white-spotted axis deer roam Maui's wilderness, searching for food in open pastures, causing mayhem on golf courses, and crying out in their telltale yelps. Otherwise known as chital or spotted deer, these graceful, leggy beauties are one of the most prevalent wild animals on the Valley Isle.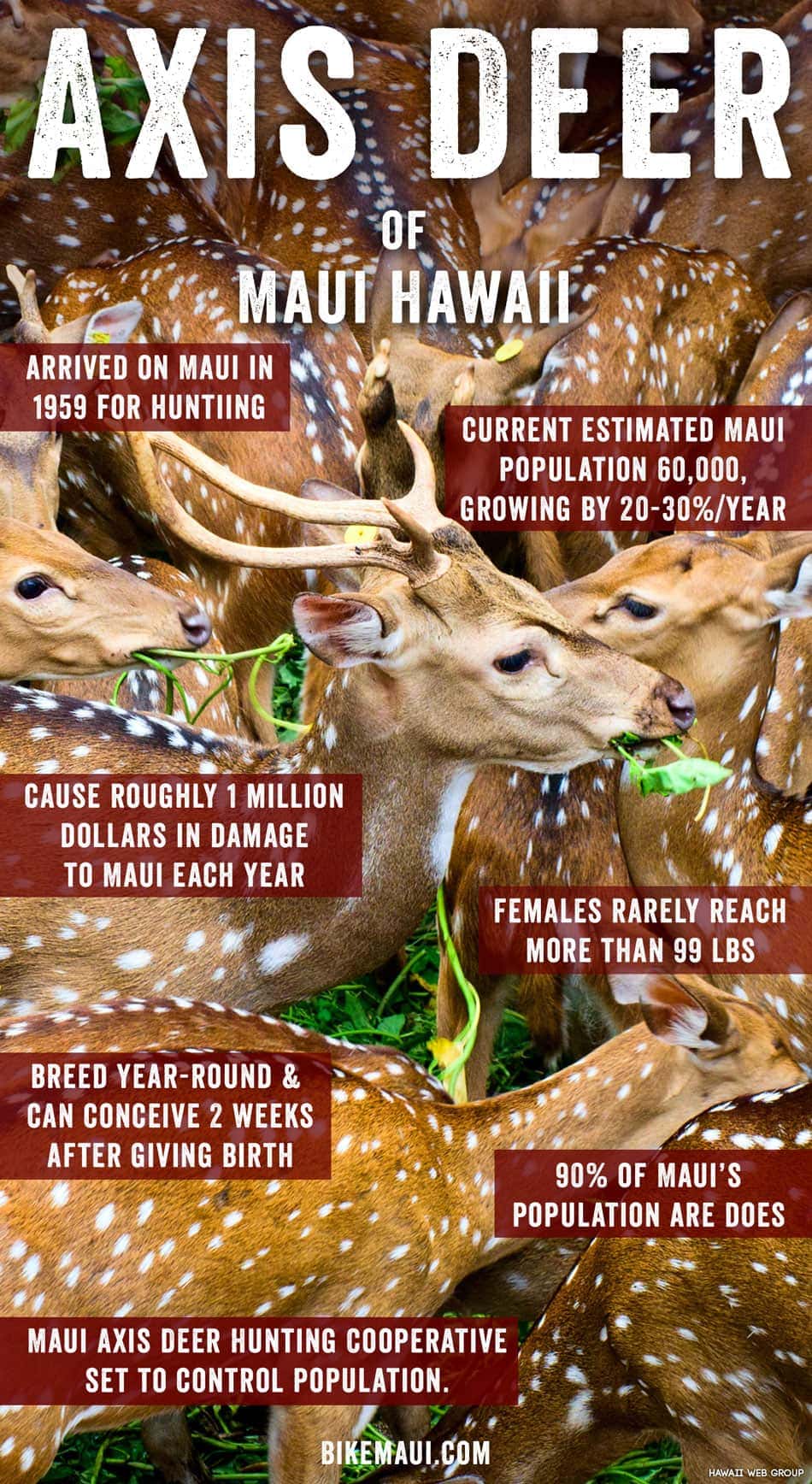 As acclimated to Maui's splendid weather and rich abundance of resources as axis deer may appear, they're relatively new to the island.    – Mahalo to Bike Maui for this great article.
The first crop of eight arrived on the Hawaiian Island of Molokai in the late 1860s when King Kamehameha V was gifted several from dignitaries in Hong Kong.
Paniolo—or Hawaiian cowboys—were taught to lasso Molokai deer and transport them to Lanai, where now the deer population is nearly double that of its residents. But Maui's own didn't cross the channel until 1959 when two bucks and three does were shipped to Pu'u O 'Kali above Kihei as part of a post-World War II effort to provide hunting opportunities for veterans and introduce mammals to new environs.
As honest as the effort may have been, the result was just shy of calamitous. Biologists believed that axis deer, which originally hail from India, Sri Lanka, and Nepal, were low-breeding. But they proliferated quickly—and copiously at that.
Today, it's estimated that the deer population on Maui is close to 60,000, in part because they have no natural predators. Considering that 90% of these deer are doing and a significant portion of them are pregnant, the Maui Axis Deer Hunting Cooperative estimates that their numbers will easily reach six figures, with populations growing by 20-30% per year.
As beautiful as deer maybe, they're notorious for wreaking havoc on local habitats, from gardens and farms to the very tropical-destination concern of golf courses and resorts, causing roughly $1 million in damage around the island per year.
Their appetite is partly to blame: while axis deer feed primarily on grasses, foliage, and shrubs, they're not above going after sugarcane, mountain apples, or vegetables in local gardens. Ranchers are particularly vulnerable to the loss deer can produce, who can easily wipe out grassy fields originally intended for cattle grazing. Axis deer are also a threat to Maui's fragile ecosystem, instigate erosion, and spread invasive species.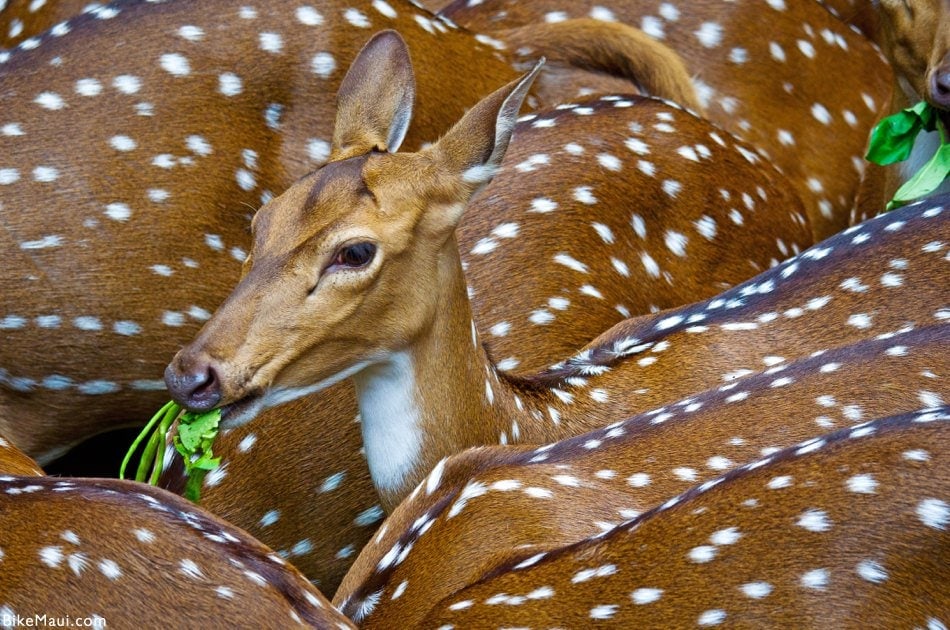 In response to the harm axis deer have caused on the island's flora and fauna, the Maui Axis Deer Hunting Cooperative was created to start a pilot project to control the ample population. Rest assured that this isn't just for sport: Local venison is available for purchase at Upcountry Maui's Pukalani Superette, and the meat is given to low-income island residents (it's also enjoyed by hunters and their families). Furthermore, in the cooperative's nose-to-tail approach, venison is given to local farmers for compost, while hides are donated to deer tanners. Meanwhile, eco-conscious meat-eaters in Washington and Oregon are reaping the benefits of Maui's immense deer population: Maui Nui Venison formed a collaborative with several top West Coast eateries in 2015, bringing a taste of the Valley Isle to Portland and Seattle.
While presences are seen throughout the islands in Maui County, the recent spate of deer on the Big Island recently raised more than a few eyebrows.
Some Hawaiian authorities speculated that several were dropped from a helicopter on the island's northern coast, while footpaths on the southern coast indicated that more than a few deer were forced from a boat and compelled to paddle ashore (where, much to conservationists' chagrin, they've multiplied to 100). In 2012, a pilot pleaded guilty for the transport, also admitting to shipping mouflon sheep to Maui from the Big Island (and leading more than one reporter to comment "Only in Hawaii".) The Aloha State now forbids the intentional possession of or interisland transference of wild deer. As for sheep? One could assume the same.
Consider the large numbers of deer par for the course:
Axis deer—which were first described by German naturalist Johann Christian Polycarp Erxleben in 1777—breed throughout the year, thanks to the fact that male deer produce testosterone year-round and does can conceive as early as two weeks after giving birth. Their courtships are just as speedy, if not a tad sweet: rutting males—a self-anointing mating behavior that entails rubbing one's antler or horns on flora, battling it out with other boys, and rolling around in mud or dust—follow and guard does in heat. Foreplay consists of chasing and mutual licking before the relationship is consummated (reminding us that there's not that big of a difference between humans and the greater animal kingdom). And once a fawn is born, a mother only leaves its side after calling out a loud "yup" to distract predators from their progeny.
Equally sweet are the social behaviors of axis deer.
These slender creatures—females rarely reach more than 99 pounds—travel in single file but are often found in herds. They're active throughout the day, hopping through Maui's open grasslands, kicking back under the shade when temps top 80 degrees, and grazing newly spouted grass, yellow oleander, and kukui nut leaves. Herds are primarily considered matriarchal, with a single mother traversing the tropical landscape with the previous year's offspring and alone fawn; males tend to amble together when they're not rutting. Highly vocal and exceptionally convivial, axis deer correspond with one another through a series of shrill barks and alarm signals, with lost fawns calling out to their wayward mothers in squeals. Axis deer are also known for their playfulness, circling, bobbing, kicking, and chasing one another between moments of recumbent rest. And should they have to escape a situation, they'll quickly return after the danger has passed, vastly preferring recognizable environments and familiar faces.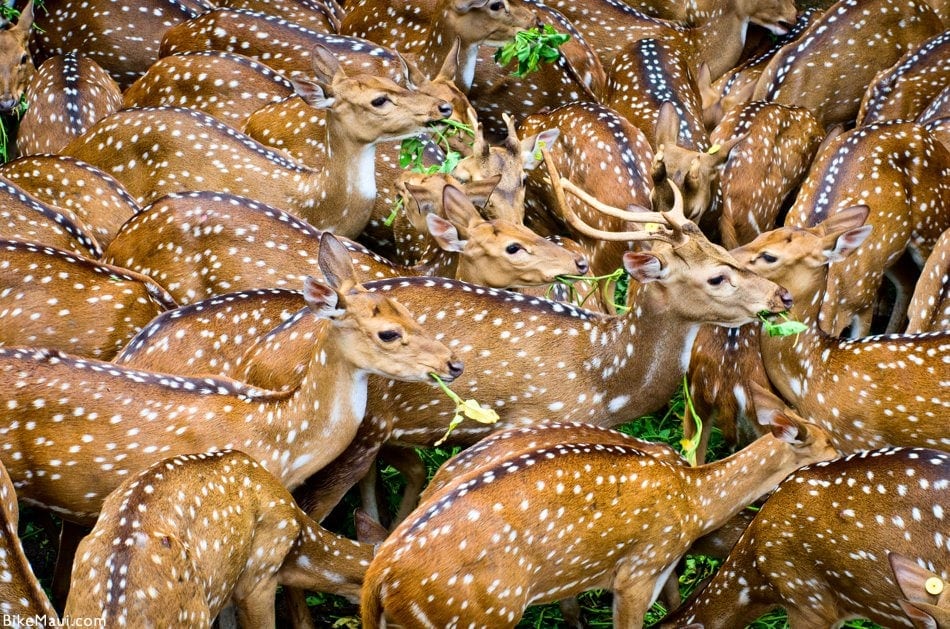 Interested in spotting a herd or a solo traveler on your Maui vacation?
While rarely difficult to see on Ulapalakua Ranch on Haleakala's leeward slopes, it's best to keep an eye out for deer at dawn and dusk, when they set out to forage outside of the heat of the day. But tread carefully and be quiet, lest you want to startle them into fleeing: Despite their gregariousness with each other, the whole "deer-caught-in-a-headlight" saying became a cliché for a reason.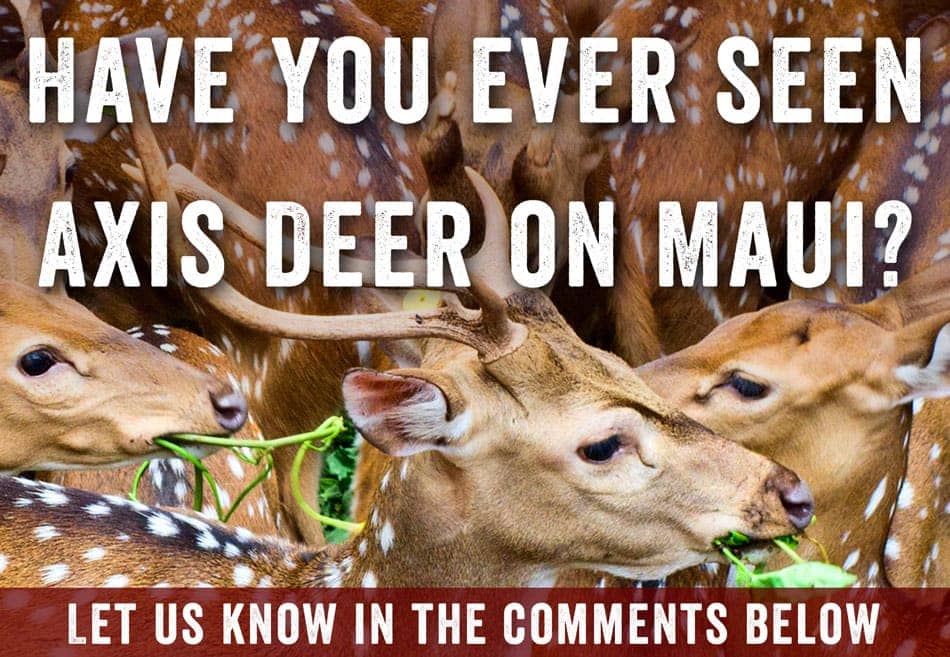 Photography courtesy of Photographers in Maui.