There are few things as evocative of Hawaii as the oh-so-prevalent gecko.
Appearing on everything from key rings to coffee cups, geckos have long served as a delightful reminder of Hawaii's playful nature, right up there with the quintessential tropical rainbow. But what's the real story behind these ubiquitous little creatures, and how did they come to roam the shores and rainforests of Hawaii?

Mahalo to Bike Maui for this beautiful and informative article!
Belonging to the kin of Gekkotas, geckos earned their name for the inimitable noises they make—a gabby chirp that has its roots in the Indonesian-Mayan word gekog.
Happen to be in a Hawaiian home? Listen closely for a twitter that sounds like smacking lips, a click-click-click that accelerates during social interactions and is used during mating.
While you're in that Hawaiian home (geckos often carve out abodes in human habitations), keep an eye out for one of their distinct tails.
Consider it this reptile's version of "scare the pants off": geckos drop their tails in defense in an intricate process known as autotomy. Not to be confused with autonomy, this ancient survival instinct to self-amputate occurs to elude predators in order to escape. But what's lost can be found, with geckos owning the uncanny ability to regenerate its appendage—usually in a mere matter of weeks. In a surprising twist of evolution's bountiful wonders, some lizards return to the tail they've forfeited to eat the fats they've stockpiled in this essential organ. And vital, indeed: a gecko's tail balances its weight, bolstering its ability to climb branches with remarkable grace.

Where we might see two to three shades of a rainbow, geckos view the world in technicolor: color vision among geckos is 350 times more effective than a human's ability to see hues.
This superpower sight might explain the reason why geckos lack eyelids, possessing instead a thin, invisible membrane. And that outsized tongue? It isn't just for gathering prey: geckos lick those transparent shields to wipe them clean. Consider it prep work for seeing at night, as recent research from Lund University in Sweden discovered that, unlike most animals, geckos can see by the light of the moon.

Geckos are masters at some Spiderman-ish abilities, ascending walls and trees with incredible finesse and speed.
And happen to see a gecko spying you from the ceiling? Think of it as less of a phenomenon than another curious aspect of Mother Nature: Van der Waals force—a concept in physical chemistry that acquired its name from the research compiled by Dutch scientist Johannes Diderik van der Waals—fortifies through molecular force the attraction between a gecko's mightily flexible toes and a surface's tension. The sultry, tropical air that characterizes Hawaii might leave us sweaty and prone to slips, but geckos thrive on that humidity. The wetter the air, the greater the adhesion of gecko's toes on most surfaces, with some scientists speculating that the existence of moisture increases the surface energy of both lizard and lampshade.
Whatever the case may be, this is one efficient reptile.
Some species are parthenogenic, which enables females to reproduce without copulating. While brilliant on one hand, on the other it leads to a dearth of genetic variation among the species (in other words, colonies of clones). And forget the need for toothbrushes: geckos also possess the ability to replace every one of their 100 (yes, 100) teeth at a rate of once every three months.

While there are over 1,450 varieties, only eight species of gecko dwell in the branches and hales of Hawaii.
Having either hitched a ride as stowaways in the first Polynesians' boats or arriving on flotsam in the sea (in another nifty turn of nature, their eggs are impervious to saltwater), the pervasive and much-loved "house gecko" arrived in Hawaii during World War II—a variety that pushed its relatives away from the residences and urban centers they were so keen to dominate. Islanders welcomed this vivid lizard into their homes, as they feed on termites, moths and mosquitos (and have been known to do serious battle with the omnipresent cockroach). Found primarily throughout Polynesia, with cousins in Australia and the subtropical regions of Africa and Europe, geckos are famously respectful housemates—routinely confining their excretions in specific places and, being largely nocturnal, darting across the rafters and walls when its human co-occupants are asleep. And that sunshine they seek in warmer climates around the world isn't just for pleasure: the health and survival of geckos rest upon having an elevated body temperature, explaining in part its existence on every continent except Antarctica.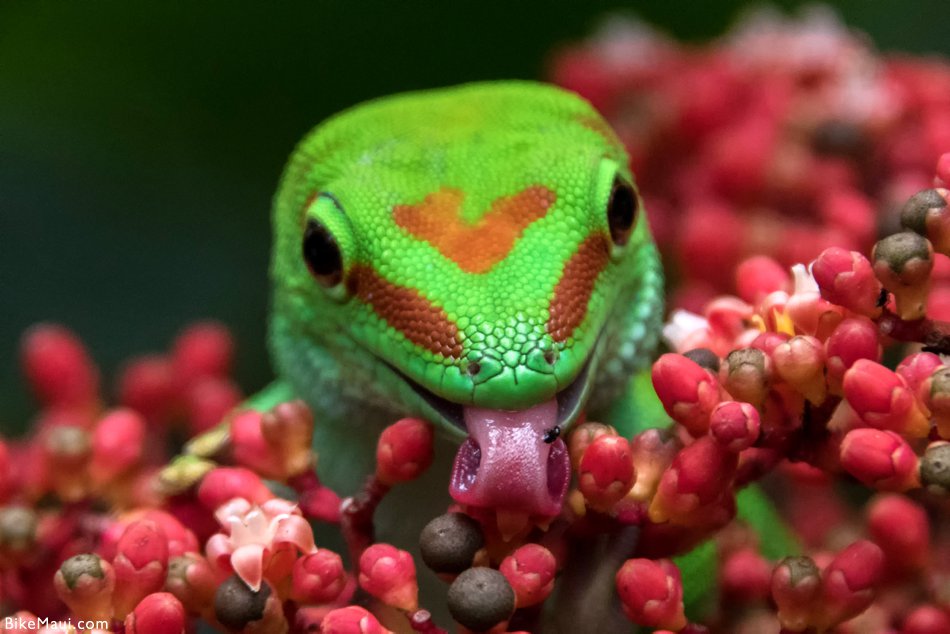 The geckos of Hawaii have names and attributes as intriguing as the islands upon which they've settled, from the entirely-female Mourning Gecko to the Stump-toed Gecko, a Southeastern Asian original that's otherwise known as the sugar lizard because of its proclivity for honey.
One of the most common types in Maui and the other major islands is the Gold Dust Day Gecko, a brilliant green gecko that seems to reflect the colors of its vibrant surroundings. Native to Madagascar, this gemmy, nectar-loving breed was originally imported to Hawaii to serve as pets before making its silver-screen debut as the official mascot of insurance-giant Geico.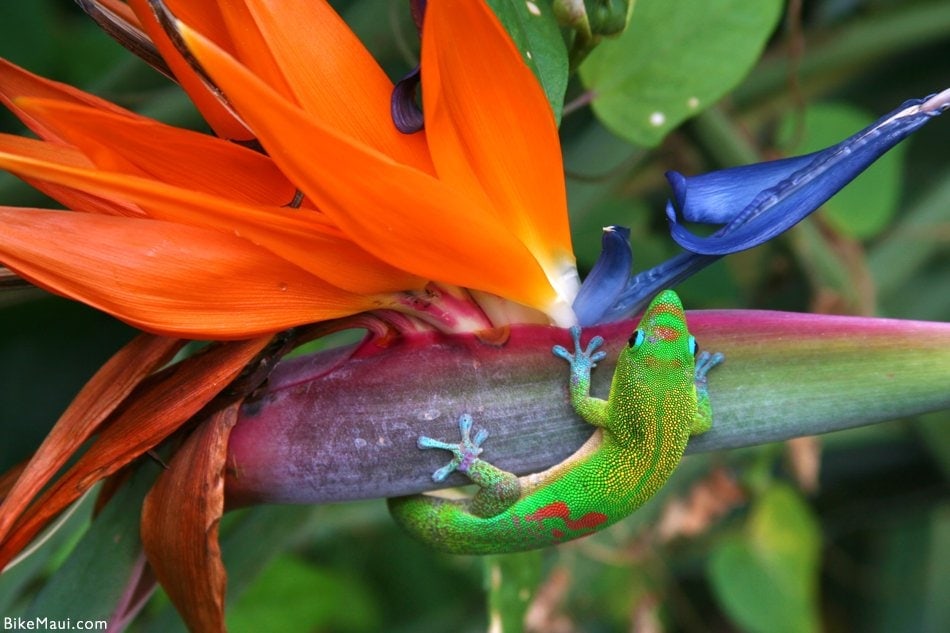 While deeply ingrained in the everyday lives of islanders, the real Hawaiian provenance of geckos is within its mythology.
Geckos—long thought to be a smaller incarnation of the great lizard Mo'o—are considered to be 'aumakuas: deified, ancestral spirits that are often manifested as animals. The Mo'o has a history as intricate as the setae on geckos' feet, with an etching on Molokai's Kamalo Ridge representing the guiding spirit's pledge to watch over the region. See it today and you'll be reminded of Hawaii's magical past, where the Mo'o—a primarily female shapeshifter—alternated between its lizard form, water dragons, and stunning, seductive women. Known to direct weather and call forth enormous ocean swells to deter trespassers, the Mo'o were considered to have the omniscience of God and the havoc-wreaking powers of the devil. So powerful was its legend that pools throughout Hawaii once had stone markers to symbolize their Mo'o inhabitants.
When visiting Maui, take a look at its southern coast, where Makena's Pu'u O'lai and the outlying atoll of Molokini are believed to be the severed parts of an ill-fated Mo'o who once caught the ire of Pele.
Disconnected by miles of ocean, it seems quite fitting for a creature that often leaves behind its tail.
Many of the photos are courtesy of Hawaii Photography.