By Amanda Hall
We are here at the beautiful Maui Tropical Plantation, encompassing over 1,500 acres of farm land. One of the CEOs at C. Brewer & Co., John W.A. "Doc" Buyers, of whom we have a statue here on property, had the foresight to showcase all of these amazing crops, one of them being pineapple.
They planted a lot of land here with pineapple, which is still harvested to this day. While popularity and demand was growing, everyone wanted to know how to grow a pineapple and how it tastes when it's really fresh. They started a tram tour that will take you around the property and teaches you about macadamia nuts, mangoes, coconuts and pineapple. You can also take a Maui zipline tour around the Maui Tropical Plantation if you are feeling adventurous.
How do you plant pineapples?
The way we go about planting a pineapple field, here at the Maui Tropical Plantation, is to use the tops of the pineapple. So we take the tops of the pineapple, the green, leafy part, and that's what's going to be buried into the ground by hand. Later, a fruit grows out of that and is harvested by hand. That entire process takes between 18 and 20 months. Then, we'll plant the tops of the pineapple again, and the next time, it's a little quicker. We get to see our fruit in about 13-­15 months.
Where do we get the tops from to plant the pineapple?
Kumu Farms, who manages this field here at the Maui Tropical Plantation for us, has a really cool way of doing it. They collect all the scrap pineapple tops from all the major resorts here on Maui and they use those to replant the pineapple fields here.
The pineapples go through 3 life cycles, and it's kind of like a Benjamin Button situation where the older they get, they actually get smaller. They also get sweeter and juicier. They call these sugar babies, and they're often found at the Kumu Farms Stand at the Maui Tropical Plantation.
Hawaii's Pineapple History
Pineapples arrived in Hawaii in 1527, and the residents here called it "hala kahiki" translating to "foreign fruit." The popularity for this fruit quickly grew and soon that brought a whole new labor force to the islands.
In the 1880's, John Kidwell began farming what was the Smooth Cayenne varietal and in 1899, James Dole arrived on the scene to open his giant plantation and cannery and became Hawaii's pineapple king.
Pineapple at the Mill House Bar and Restaurant
You can find pineapple in several drinks at Cafe OʻLei at the Mill House. One of the easiest ways to sip on it is with the Plantation Sweet Tea. You can also find it in our Easy Rider cocktail with Knob Creek Bourbon, pineapple, lemon, lilikoi, and macadamia nut. The most popular way to experience pineapple at the Mill House is with the Final Punch: Koloā White Run, pineapple, orange, banana, mango all served in a pineapple-­shaped glass.
Of course, pineapple makes its way into the Mill House kitchen. We use it often in different desserts, and recently we've been using it as a glaze for our pork belly, which is served with a soft egg, barley, and pickled ogo.
Finding the Perfect Pineapple
An interesting thing about pineapples is that they don't actually ripen after picking. Although they do change color from green to yellow and then later to brown, the fruit on the inside is not really changing or sweetening. Pineapples are best enjoyed as soon as you can after picking but picking at optimal ripeness. This means the best way to have a pineapple is soon after it's been picked here on Maui!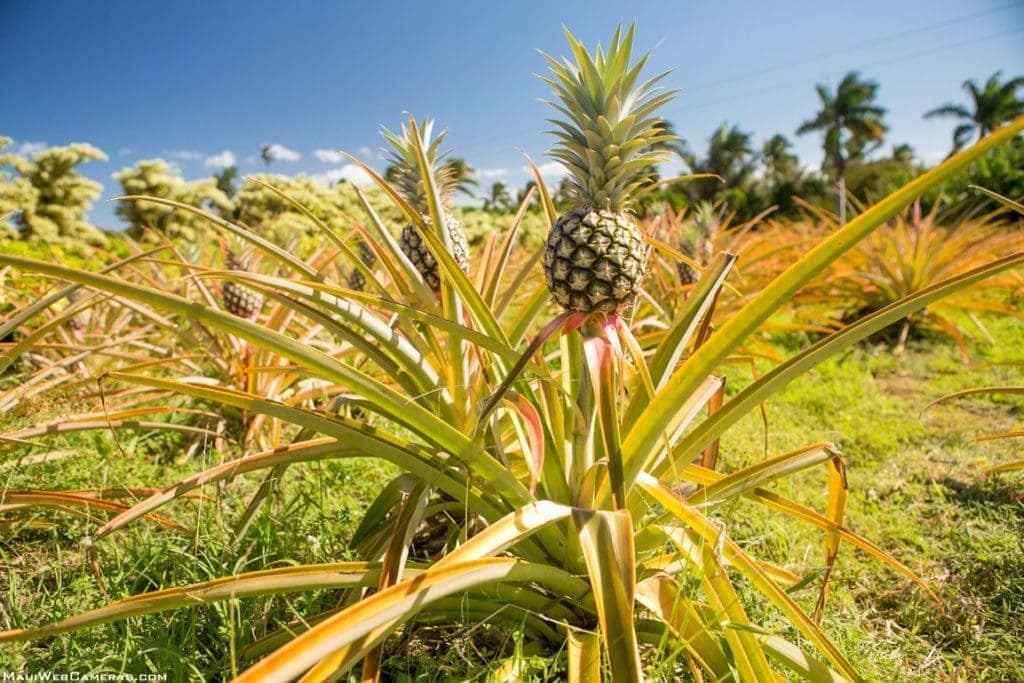 Pineapple Art
And for those of you wanting something more permanent to take home, check out the pineapple glass art by the skilled artists at Hot Island Glass in Makawao.